Alec MacGillis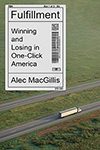 In 1937, the famed writer and activist Upton Sinclair published a novel bearing the subtitle
A Story of Ford-America
. He blasted the callousness of a company worth "a billion dollars" that underpaid its workers while forcing them to engage in repetitive and sometimes dangerous assembly line labor. Eighty-three years later, the market capitalization of Amazon.com has exceeded one
trillion
dollars, while the value of the Ford Motor Company hovers around thirty billion. We have, it seems, entered the age of one-click America—and as the coronavirus makes Americans more dependent on online shopping, its sway will only intensify.
Alec MacGillis's Fulfillment is not another inside account or exposé of our most conspicuously dominant company. Rather, it is a literary investigation of the America that falls within that company's growing shadow. As MacGillis shows, Amazon's sprawling network of delivery hubs, data centers, and corporate campuses epitomizes a land where winner and loser cities and regions are drifting steadily apart, the civic fabric is unraveling, and work has become increasingly rudimentary and isolated. [from publisher web site]
New York, NY: Farrar, Straus and Giroux. 384 pages.
ISBN: 9780374159276