Katherine S. Newman and Elisabeth S. Jacobs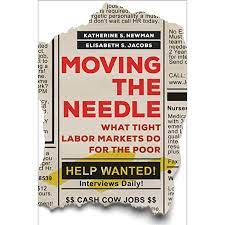 This timely investigation reveals how sustained tight labor markets improve the job prospects and life chances of America's most vulnerable households.
Most research on poverty focuses on the damage caused by persistent unemployment. But what happens when jobs are plentiful and workers are hard to come by? Moving the Needle examines how very low unemployment boosts wages at the bottom, improves benefits, lengthens job ladders, and pulls the unemployed into a booming job market.
Drawing on over seventy years of quantitative data, as well as interviews with employers, jobseekers, and longtime residents of poor neighborhoods, Katherine S. Newman and Elisabeth S. Jacobs investigate the most durable positive consequences of tight labor markets. They also consider the downside of overheated economies that can ignite surging rents and spur outmigration. Moving the Needle is an urgent and original call to implement policies that will maintain the current momentum and prepare for potential slowdowns that may lie ahead. [from publisher web site]
Oakland, CA: University of California Press. 363 pages.
ISBN: 9780520379107