Sarosh Kuruvilla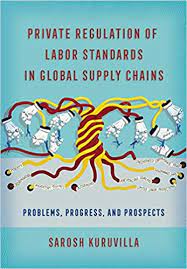 Private Regulation of Labor Standards in Global Supply Chains
examines the effectiveness of corporate social responsibility on improving labor standards in global supply chains.
Sarosh Kuruvilla charts the development and effectiveness of corporate codes of conduct to ameliorate "sweatshop" conditions in global supply chains. This form of private voluntary regulation, spearheaded by Nike and Reebok, became necessary given the inability of third world countries to enforce their own laws and the absence of a global regulatory system for labor standards. Although private regulation programs have been adopted by other companies in many different industries, we know relatively little regarding the effectiveness of these programs because companies don't disclose information about their efforts and outcomes in regulating labor conditions in their supply chains.
Private Regulation of Labor Standards in Global Supply Chains presents data from companies, multi-stakeholder institutions, and auditing firms in a comprehensive, investigative dive into the world of private voluntary regulation of labor conditions. The picture he paints is wholistic and raw, but it considers several ways in which this private voluntary system can be improved to improve the lives of workers in global supply chains. [from publisher web site]
Ithaca, NY: ILR Press, an imprint of Cornell University Press. 342 pages.
ISBN: 9781501754524