Ruth Sergel, Teresa Mangum and Anne Valk (Eds.)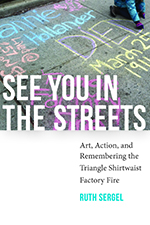 In 1911, a fire at the Triangle Shirtwaist Factory in New York City took the lives of 146 workers, most of them young immigrant women and girls. Their deaths galvanized a movement for social and economic justice then, but today's laborers continue to battle dire working conditions. How can we bring the lessons of the Triangle fire back into practice today? For artist Ruth Sergel, the answer was to fuse art, activism, and collective memory to create a large-scale public commemoration that invites broad participation and incites civic engagement. See You in the Streets showcases her work.It all began modestly in 2004 with Chalk, an invitation to all New Yorkers to remember the 146 victims of the fire by inscribing their names and ages in chalk in front of their former homes. This project inspired Sergel to found the Remember the Triangle Fire Coalition, a broad alliance of artists and activists, universities and unions—more than 250 partners nationwide—to mark the 2011 centennial of the infamous blaze. Putting the coalition together and figuring what to do and how to do it were not easy. This book provides a lively account of the unexpected partnerships, false steps, joyous collective actions, and sustainability of such large public works. Much more than an object lesson from the past, See You in the Streets offers an exuberant perspective on building a social art practice and doing public history through argument and agitation, creativity and celebration with an engaged public. 
Iowa City, IA: University of Iowa Press. 209 pages.
ISBN: 9.78161E+12