Francine D. Blau and Christopher Mackie (Editors)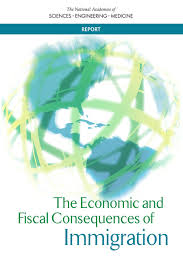 The Economic and Fiscal Consequences of Immigration finds that the long-term impact of immigration on the wages and employment of native-born workers overall is very small, and that any negative impacts are most likely to be found for prior immigrants or native-born high school dropouts. First-generation immigrants are more costly to governments than are the native-born, but the second generation are among the strongest fiscal and economic contributors in the U.S. This report concludes that immigration has an overall positive impact on long-run economic growth in the U.S.More than 40 million people living in the United States were born in other countries, and almost an equal number have at least one foreign-born parent. Together, the first generation (foreign-born) and second generation (children of the foreign-born) comprise almost one in four Americans. It comes as little surprise, then, that many U.S. residents view immigration as a major policy issue facing the nation. Not only does immigration affect the environment in which everyone lives, learns, and works, but it also interacts with nearly every policy area of concern, from jobs and the economy, education, and health care, to federal, state, and local government budgets. The changing patterns of immigration and the evolving consequences for American society, institutions, and the economy continue to fuel public policy debate that plays out at the national, state, and local levels. The Economic and Fiscal Consequences of Immigration assesses the impact of dynamic immigration processes on economic and fiscal outcomes for the United States, a major destination of world population movements. This report will be a fundamental resource for policy makers and law makers at the federal, state, and local levels but extends to the general public, nongovernmental organizations, the business community, educational institutions, and the research community [from publisher web site].  Also available online here. 
Washington, DC: National Academies Press. 615 pages.
ISBN: 9.78031E+12